MEDIA STUDIO:
IMAGING
ARTS-1020  sections 01, 02, 03, 04
Fall Semester 2007

Overview Chart for: all due dates,
lectures, readings, short study projects,
& studio info
Samples of previous student work: www.arts.rpi.edu/~ruiz/DIweb/index.html

<![if !vml]>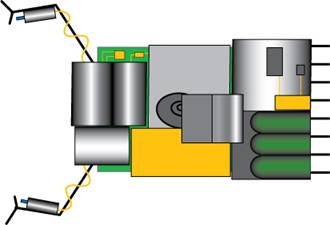 <![endif]>
                                                                         Image by Matt Brucksch, IDI Fall'06
Course Description:
Media Studio: Imaging is an introductory studio arts course in visual art using digital raster, vector, photography, web, and basic animation for creative expression. Inquiry and experimentation are encouraged as students develop basic skills through a series of short studies which lead to a final project and web portfolio.
Projects reflect equal attention to concept, expression, and technique. Screenings, related readings, and discussions of influential themes help give background to the history and theory of contemporary visual arts practice in a highly technological and scientific culture.
Fall and spring terms annually. 4 credit hours
Course Structure:
The course includes a lecture and a studio lab. Lectures provide an overview of digital arts and related cultural issues which inform the required projects. Studio labs consist of skills development workshops and critiques.
Professor:
Kathleen Ruiz
email: ruiz@rpi.edu
phone: 518-276-2539
office: West Hall 314c
office hours: by appointment Tuesdays 1:30 -3:30 PM
Studio Lab Instructor: Sections 1& 2:
Kyle McDonald
email: mcdonk@rpi.edu
office: Studio 214
office hours: by appointment
 
Studio Lab Instructor: Sections 3 & 4:
Paolo Pedercini
email: pederp@rpi.edu
office: Studio 214
office hours: by appointment
____________________
<![if !supportLineBreakNewLine]>
<![endif]>
Student Mentors:
Kristie Norris
email: norrik@rpi.edu
office: Studio 211
office hours: Tuesdays 10 to 12
Jessica Giles
email: gilesj@rpi.edu
office: Studio 214
office hours: Tuesdays 4 to 6pm
Yan Fu
email: fuy2@rpi.edu
office: Studio 214
office hours: by appointment
Darren Domingos
email: domind@rpi.edu
office: Studio 214
office hours: by appointment
Jessica Mallow
email: malloj2@rpi.edu
office: Studio 214
office hours: Friday 4 to 6pm
____________________
<![if !supportLineBreakNewLine]>
<![endif]>
Class Times:
(attendance is mandatory and is taken at each lecture
and each studio lab)
<![if !supportLineBreakNewLine]>
<![endif]>
Lecture:
Tuesday, 6:00pm to 7:50pm, Sage 5101
<![if !supportLineBreakNewLine]>
<![endif]>
Studio Lab Sections: ARTS 1020:
Section 01 Wednesday, crn 80997, 10 -11:50AM, West Hall 211
Section 02 Wednesday, crn 80998, 12 - 1:50AM, West Hall 211
Section 03 Wednesday, crn 81002, 10 - 11:50, West Hall 214
Section 04 Wednesday, crn 81501, 12 - 1:50, West Hall 214
___________________________________________________________
<![if !supportLineBreakNewLine]>
<![endif]>
Course syllabus: is subject to changes, a current version is accessible here:
www. rpi.edu/~ruiz
Courses
Other
Media Studio Imaging Fall 07
___________________________________________________________
<![if !supportLineBreakNewLine]>
<![endif]>
Assignments:
Students must complete all short study and final projects by the deadlines given. There are also assigned readings throughout the semester. You will be required to write written reactions to these readings.  Class participation is also an important factor for your grade.
PROJECTS:
Please see overview chart for more detailed info
Short Studies:
* Digital Collage: Due: 9/12
* Pixel Art: Due: 9/19
* Self Portrait: Beauty/Age: Due:  10/3
* Identity: Personal Logo: Due: 10/17
* BioArt/NanoArt Net Project: Due: 10/31
* Stop Action Animation: Due: 11/14
* SuperHero: Due: 11/20
* Final Project: The final project is an exploration that expands on a more in-depth approach to one of the short studies. You are required to articulate your final project in an artist statement of from one to two paragraphs whereby your concept, methodology and at least 5 bibliographic references/influences are stated for the pre-review process.
Pre Review Due: 11/27
Final Crit Due: 12/4
* Web Portfolio of all perfected short studies and final project.
 Due: the last day of studio class, Dec 5. 2007.
There are absolutely NO EXCEPTIONS.
__________________________________________________________

Lecture Topics:
Please click here for overview chart for detailed info

Week 1
8/28 – Introduction/ What is Digital Imaging?/
Intuition & Creativity/ tangram exercise/ intro to Manovich reading / intro to Photomontage & Collage short study
<![if !supportLineBreakNewLine]>
<![endif]>
Week 2
Sept 4 –The Temple of Art
composition, form, perspective, light, color, proportion, motion
Screenings: Genius-Leonardo da Vinci

Week 3
Sept 11 – The History of Digital Culture
Intro to Pixel Art short study & group team formation
Screening: The Story of Computer Graphics
Week 4
Sept 18 – work on pixel art head projects & anims
Screening: Le MystÈre Picasso
Visiting artist: Kyle McDonald
Week 5
Sept 25 – Digital Portraiture: Issues of Beauty/Age /Photomontage
Screening: Decoding photographic images
Week 6 
Oct 2 – Discussion & Intro to Identity / Logos / Logo Count/
Screening: The Merchants of Cool
Week 7
Oct 9  – (no lecture class)
Institute-wide Tuesday FOLLOW MONDAY SCHEDULE
Week 8
Oct 16 – Identity Politics and Gender / Race /& Class Representation
Week 9
Oct 23 – BioArt: issues and ideas/ web projects
visiting artist: Adam Zaretsky
Week 10
Oct 30 – Nano Perspectives
Screening Biomed/Biotech film
Week 11
Nov 6 – Motion/Emotion "To give life to"
Visiting artist: Shawn Lawson
Screening: William Kentridge
Week 12
Nov 13 – The Military Entertainment Complex/
gaming / machinima/ superheros / Flash animation
Visiting artist: Paolo Pedericini
Screening: Gamer Revolution
Week 13 (before Thanksgiving))
Nov 20 – Critique of Super Hero projects & Final Project Pre-reviews/discussions
Screening: Waking Life
Week 14
Nov 27 – Final Project Pre-reviews/discussions
Week 15
Dec 4 – Final Project Pre-Reviews/Critiques ________________________________________________________

<![if !supportLineBreakNewLine]>
<![endif]>
Readings:
Please see overview chart for detailed info
During the semester there will be required readings related to the short studies and lectures. You will write a short reaction paper for each - a one page double spaced summary of the essay's major points and your personal reactions to the content.
By Lev Manovich
(commissioned for The New Media Reader, edited by Noah Wardrip-Fruin and Nick Montfort, The MIT Press
Reaction paper Due Sept 5

On Photography
By Susan Sontag
In Plato's Cave
Reaction paper Due Oct 3

Bioart in Question
http://www.ciac.ca/magazine/archives/no_23/en/entrevue.htm
AND
The Nanomeme Syndrome: Blurring of fact & fiction in the construction of a new science
by Jim Gimzewski and Victoria Vesna
AND
Nanotechnology: Issues
"Drexler and Smalley make the case for and against 'molecular assemblers'"  by Rudy Baum
Reaction papers for both Due: Oct 31
<![if !supportLineBreakNewLine]>
<![endif]>
From Sun Tzu to XBox  (Introduction)
by Ed Halter
Reaction paper Due: Nov 20
____________________________________________________
Studio Schedule:
Please see overview chart for detailed info

Aug 29 –
Sept 5 –
Sept 12 –
Sept 19 –
Sept 26 –
Oct 3 –
Oct 10 –
Oct 17 –
Oct 24 –
Oct 31 –
Nov 7 –
Nov 14 –
Nov 21 – off for Thanksgiving
Nov 28 –  FINAL CRITS
Dec 5 –  FINAL CRITS Last class: all fully perfected web portfolios due , NO EXCEPTIONS
_______________________________________________________
Exhibitions/Performances:
iEAR Presents! Check the RPI art department website for monthly schedule:
http://arts.rpi.edu/content/events.html
:::::::::::::::::::REQUIRED to attend for this semester: 3 of the following:
<![if !supportLineBreakNewLine]>
<![endif]>
<![if !vml]>
<![endif]>
In the Presence of the Body 2
Center for Biotechnology
Aug 29 2007 5:00PM "In the Presence of the Body 2" is an exhibition and screening in conjunction with the BioArt Initiative of the Center for Biotechnology and Interdisciplinary Studies (CBIS) and Rensselaer's Arts Department dedicated to art, biology and society. (Event Details) reaction paper due: Sept 5

<![if !supportLineBreakNewLine]>
<![endif]>
<![if !vml]>
<![endif]>
DRIP Film and Video Festival
West Hall Auditorium, RPI Campus
Sep 5 2007 7:30PM An annual festival of undergraduate student video, animation, film and moving-image work. (Event Details)
reaction paper due: Sept 12

Lecture: Cory Arcangel
WED NOV 7 - 7:30pm
West Hall Auditorium One of the world's best known new media practitioners, game-hacker Cory Arcangel's work explores computer programming, P2P, glockenspiel, Bruce Springsteen, Amiga home computers, 80s video art, and the Discrete Cosine Transform function. http://www.beigerecords.com/cory/
reaction paper due: Nov 17


:::::::::::::Alternative three events if you cannot attend the above:

True Fictions: New Adventures in Folklore | The Light Surgeons
Sept. 14,  8:00 pm @ Rensselaer Armory — 518.276.3921
<![if !vml]>
<![endif]> An eye-popping performance shot in and around Troy, NY with projections on multiple oversized screens that fuses film making, live and electronic music and motion graphics with innovative digital video performance tools.
reaction paper due: Sept.19
Amplification | Ballet Lab
Thursday, September 20 thru Saturday, September 22, 2007
8:00 pm @ RPI Playhouse — 518.276.3921
<![if !vml]>
<![endif]> In Amplification, Australia's foremost contemporary dance company collides fierce dancing, driving music and unsettling imagery for an exhilarating and engaging performance. Please make reservations here:
 http://empac.rpi.edu/events/2007/balletlab.html
reaction paper due: Sept 26
Custom Control
10.26.07  8:00 pm @ Heffner Alumni House — 518.276.3921

<![if !vml]>
<![endif]>
<![if !supportLineBreakNewLine]>
<![endif]>
 Custom Control is an evening of three performances where artists have custom built their own audio and video performance instruments. Part of the ongoing "Tools — Analogs and Intersections' initiative. reaction paper due: Oct 31

_______________________________________________________
Required materials:
<![if !supportLineBreakNewLine]>
<![endif]>
* Software: We will be using Photoshop, Illustrator, Dreamweaver and Flash. (These applications are available on some computers in the studio labs in WH 214 & 211, Sage 4510, and VCC NW Lobby.) There will be no key-served software. It is highly recommended that you purchase these programs with an educational discount at the RPI computer store. The Adobe CS3 Design Edition has these applications. (Please note: if you are taking other media related courses you may wish to check with your professors and purchase larger suites of applications.)
* A digital camera (dslr is preferred if you are considering further advanced work in this field) or digital point and shoot). The Arts Department equipment room (ER) has some digital cameras available to sign out. The equipment room is located on the ground floor of West Hall (please follow the signs.) Please reserve ahead of time. (Film cameras, or 4 disposable cameras can be used, but are not preferred and will require scanning.)
Places to check for digital cameras: B&H Photo Video , New Egg , Tiger Direct or directly to the Manufacturer

* An ink jet printer capable of photo quality is highly suggested.

* Wacom or cordless graphics tablet and stylus. If digital art is your area of study, a graphics tablet is highly recommended as you will use it for future personal and class work.
* Digital Storage: please back up all your good files 3 times each, even while in process. Suggested backup forms are: Flash drive (aka jump drives, memory sticks). Look for USB 2.0 Hi-Speed.
You can additionally use cds (approximately 10 to 11) or dvds (approximately 5 to 6).
* Other materials on a per project basis
* A journal for your thoughts and ideas concerning your projects
__________________________________
Screenings:
a selection of some of the following:

Genius - Leonardo da Vinci The story of the brilliant Italian artist, sculptor, architect and engineer is told in this informative program. Leonardo's legacy to the world came in so many forms; in the breathtaking beauty of The Last Supper and The Mona Lisa; his rich collection of drawing; the mirror-written notebooks containing original thoughts on astronomy, biology and physiology. This DVD features: State of the art 3D graphics to explain and test Leonardo's theories and designs, outstanding computer animated reconstructions, the paintings and drawings, rare period imagery, expert commentary and analyses by Dr. Alan Cartwight, School of Engineering at the University of Warwick, Dr. Peter Borcherds, School of Physics and Astronomy at the University of Birmingham and Dr. Martin Kemp, Trinity College Oxford. 50 min.
The Story of Computer Graphics From its early development as an obscure topic of research, to its widely accepted role as an important communication tool, Computer Graphics has a rich history of human accomplishment. This movie attempts to document some of the most compelling stories behind the striking graphics and technology that we take for granted in today's imagery. This is the "human" story of the pioneers that are revolutionizing visual communication, through a community with its own unique culture. 93 min

THE MERCHANTS OF COOL Examines the tactics, techniques, and cultural ramifications of these marketing moguls in 'The Merchants of Cool.' Rushkoff talks with top marketers, media executives and cultural/media critics, and explores the symbiotic relationship between the media and today's teens, as each looks to the other for their identity." The Merchants of Cool Website at PBS.org features interview, information, and STREAMING VIDEO of the entire documentary.
<![if !supportLineBreakNewLine]>
<![endif]>
Biomedicine and Biotechnology 47min dvd] / a presentation of Films for the Humanities & SciencesR856.4 .B615 2004

Gamer Revolution Anticipation builds in Seoul, South Korea as 20,000 screaming fans await the arrival of their video game idols for the ultimate game-off - Beatlemania 21st century style. In Romania, teens slave away in a "virtual sweatshop" racking up points for Westerners who are too busy to play their own games. And somewhere in a small town 100 miles from the Arctic Circle, the largest gathering of online gamers in the world is getting underway.
Computer games are a global phenomenon and a $25 billion dollar a year industry. Over 800 million people worldwide are regular players. GAMER REVOLUTION, shot in HD, is the first full-length documentary to look past the hype, paranoia, and hoopla to explore the real stories behind the computer game revolution.
GAMER REVOLUTION explores how computer games are not only a new medium for the 21st century, they are a massive form of change in our world." says Rachel Low, President, Red Apple Entertainment. "The idea of living inside a computer-generated universe is happening right now. The line between the real world and the virtual world is disappearing. Millions of people feel that they have a life inside these games."
William Kentridge N3830.K47W54 Drawing the Passing documentary by Maria Anna Tappeiner and Reinhard Wulf, Exploring a space between the personal and the political, the work of South African artist William Kentridge has since the 1970's investigated the diseased, amnesiac consciousness of the late and post-apartheid South Africa. Kentridge has received international acclaim for his animated films, drawings and theatre work. In his 'stone-age filmmaking technique', Kentridge films his charcoal drawings as they mutate through hundreds of successive erasures and alterations. Erasure is never complete, and the drawings and films carry within them the history of their making.

Waking Life, written & directed by Richard Linklater. PN1997.5 .W353 2002 Dreams. What are they? An escape from reality or reality itself? Waking Life follows the dream(s) of one man and his attempt to find and discern the absolute difference between waking life and the dreamworld. While trying to figure out a way to wake up, he runs into many people on his way; some of which offer one sentence asides on life, others delving deeply into existential questions and life's mysteries. We become the main character. It becomes our dream and our questions being asked and answered. Can we control our dreams? What are they telling us about life? About death? About ourselves and where we come from and where we are going? The film does not answer all these for us. Instead, it inspires us to ask the questions and find the answers ourselves.
________________________________________________________

Suggested Additional Texts/Lessons:
________________________________________________________
Other art museums in the general area which may be of interest to you:
Mass MOCA www.massmoca.org
North Adams Mass (40 minutes west of Troy)
The Tang Museum http://tang.skidmore.edu/
Saratoga Springs (30 minutes north of Troy)
The Center for Curatorial Studies Bard College
http://www.bard.edu/ccs/exhibitions/
Annandale on the Hudson (1 hour south of Troy)
The Center for Photography Woodstock
http://www.cpw.org/index.html
(1 hour south of Troy)
EYEBEAM http://www.eyebeam.org
New York, New York (2 1/2 hours south of Troy)
Whitney Museum of American Art
http://www.whitney.org/
New York City (2 1/2 hours south of Troy)

The Museum of Modern Art
http://www.moma.org/
New York City (2 1/2 hours south of Troy)
<![if !supportLineBreakNewLine]>
<![endif]>
____________________________________________

Media Studio / Imaging is a pre-requisite to a significant number of e-studios. The following are the topics and skills that students coming out of Media Studio Imaging aim to have:

* Intro to history and theory of image making
* Intro to basic 2-D design principles
* Ability to discuss and analyze work critically
* Basic raster imaging - Photoshop
* Basic scanning techniques
* Using a digital camera & basic photo skills
* Ppi, dpi – resolution familiarity
* Familiarity with the range of image formats
* Image compression
* Basic printing skills
* Digital stylus drawing skills
* Color manipulation skills
* Basic vector drawing - Illustrator
* Intro to web media - Dreamweaver
* Basic animated still images
* Basic Flash: animation/ rotoscoping/morphing/interactivity
____________________________________________
Tips:
How to Succeed (in class)

This class will require that you challenge your preconceived notions of computer-based art by expanding and challenging your vision, inventiveness, imagination and motivation. The successful student in this class will be highly self-directed and disciplined in exploring new techniques for using the tools. Although self mastery of the tools is encouraged, the successful student will be willing to explore, experiment, and invent new ways to achieve his/her creative goals.
• Be self-motivated and self-disciplined. You will succeed by your own efforts. You are expected to do at least 4 hours preparation for each class.
• Be on time for class
• Learn the technical material in a timely way via application tutorials and astute following during studio lessons.
• Do your readings and contribute to the class discussions.
• Do your work – on time. There are no extensions.
• Be involved in discussions and critiques. Critique of each other's work is to be constructive. It is a gift to your fellow classmates to help them and yourself improve in your technique and criticality.
• Do not do your email, instant messenger, text messaging, or other class work in class. Just don't be tempted and do not open these applications during class. Turn off your cell phone. Infraction of this rule will result in final grade penalization.
• Do not alter any material or file that you did not create.
• Ask questions! This is a beginning class and no question is too elementary or advanced. Demonstrating the willingness to experiment, ask, and fail while discovering is a guaranteed path to success in this class.
• MS: I is a taste of the field that will give you the opportunity to explore the possibilities of digital creativity using computers. You are encouraged to continue taking electronic media classes to continue gaining more in-depth knowledge, skills and creativity.

Time Management:
DO NOT PROCRASTINATE! Waiting until the last minute to complete the assignments will guarantee long nights and incomplete work. Take advantage of the opportunity to ask questions about your assignments in class by starting your work early and managing your time.

Backups
Always back-up your work frequently. Systems crash when least expected and you could loose your work. It is a good idea to make more than one backup -- that means making a copy onto your flash drive, a CDR and/or the server. Software or media failure is not an adequate excuse for missed deadlines or assignment extensions. Remember to also save often while you are working. Save each file as a new file by giving it a new name. You can discard your earlier versions later.

Evaluation:
10% Class Participation
11% Written reaction papers on readings
63% Short Studies (There are 7 assignments @ 9% each)
16% Final Project and Web Portfolio of all work
Grade Scale
A=4.0, A-=3.67, Outstanding; pushing limits of student's conceptual, technical, artistic ability
B+=3.33 B=3.0, B-= 2.67, Good; thoughtful, thorough, and creative completion of project
C+= 2.33, C=2.0 C-= 1.67, Average; Project completed according to minimum requirement
D+=1.33, D=1.0, Poor; does not meet minimum assignment
F=0.0,  Fail; failure to complete the assignment
Laptops:
It is required that you bring your laptop to every lecture and studio lab.
Focused Attention: Important: Writing emails, instant messages and other unfocused forms of communications, unless specifically desired by the instructor, are not tolerated and count directly against your grade and will be grounds for dismissal from class.
Card Access:
As a student enrolled in Arts, you have card access to West Hall 211 and 214, which are undergraduate imaging labs.
Any problems with card access or studio facilities, please contact Greg Palmer palmeg2@rpi.edu Technical manager ext. 8015 or Seanna Biondolillo bionds@rpi.edu Studio Engineer ext. 4779.

General:
Please take great care of all gear in the studio labs and all facilities. Please do not lose files and folders belonging to our class or other classes. The facilities are all of ours and Arts does not have funding to replace any broken or lost gear. Please report studio lab problems to lab staff immediately via email at: engine-l@lists.rpi.edu
Please follow the guidelines for working in each studio very carefully, as you will be held personally responsible for problems you incur.
• Always save onto your own media or into your account as files left on hard drives will be removed.
• Also, please keep in mind the highly addictive aspects of working with computers. Many people lose track of time and later wonder why they have severe back, neck and eye problems. It is a good idea to take a rest every 15 to 20 minutes. Look up or beyond your computer or, better still, at a long distance to relax your eyes. Take a walk or stretch. Fatigue can lead to frustration. Stay in touch with your body's needs. Working with computers can at times be frustrating. Before having a breakdown, take a break.

Electronic Communication:
Email: All students are expected to have an active Rensselaer electronic mail account, and should check mail at least four times a week for class information. Some essential class information is communicated by email only.

Statement On Academic Integrity:
Class Specific: Collaboration and discussion about class projects is actively encouraged, and is in no way considered cheating. This is a studio course, and personal ownership of information is not deemed to be appropriate. Original images are required except where indicated otherwise. Projects are expected to reflect personal endeavor, but may also be collaborative in nature when indicated.

Academic Honesty:
Student relationships are built on mutual respect and trust. Students must be able to trust that their teachers have made responsible decisions about the structure and content of the course and that they are conscientiously making their best effort to help students learn. Teachers must be able to trust that students do their work conscientiously and honestly making their best effort to learn. Acts that violate this mutual respect and trust undermine the educational process. They counteract our very reason for being here at Rensselaer and will not be tolerated. Any student who engages in any form of academic dishonesty will receive an F in this course and will be reported to the Dean of Students for further disciplinary action. The Rensselaer Handbook defines various forms of Academic Dishonesty and procedures for responding to them. All of these forms are violations of trust between students and teachers. Please familiarize yourself with this part of the handbook.

Gender-fair language:
Because the way we speak and write affects the way we think, everyone in this course is expected to use gender-fair language in all discussions and writing. A guide to gender-fair language is available from the Writing Center and from the Library.

Class Attendance and Participation Policy:
As an enrolled student, you have made a commitment to this class and your attendance is a significant part of that commitment. Attendance is mandatory at each and every lecture and studio class. Two (2) unexcused absences will result in a reduction of one entire letter grade. Two lates = one absence. A good amount of your participation evaluation is in your contribution to class critiques. Critiques are peer review discussions on a project's artistic and technical approach. Your studio lab instructors will help facilitate critiques during lab.
(An absence is considered excused if the student has informed his/her Teaching Assistant by phone, email or in person before the beginning of the class (lecture or studio) and the excuse is considered reasonable.)
________________________________________________


Helpful sites:
Rensselaer Computer HelpDesk: http://helpdesk.rpi.edu/
Rensselaer Library RenSearch: http://library.rpi.edu/setup.do
Other References:
How to make Very cool things:
http://makezine.com/
HTML:
Bare Bones Guide to HTML: http://werbach.com/barebones/download.html
Web Style Guide : http://www.webstyleguide.com/index.html?/contents.html
WWW Help Pages: http://werbach.com/web/wwwhelp.html
W3C HyperText Markup Language (HTML) Home Page http://www.w3.org/MarkUp/
ARTS Sites:
1. Google the artist's name on the Web
2. On-Line Journals and Listserves to Subscribe to:
Rhizome http://www.rhizome.org/
Telepolis http://www.heise.de/tp/
Ctheory http://www.ctheory.net/
Nettime http://www.nettime.org/
RunMe (Code Art) http://runme.org/

3. Archives
Bitstreams
http://www.whitney.org/bitstreams/#
Women's New Media Gallery http://trace.ntu.ac.uk/traced/guertin/assemblage.htm
Netartistas Latinoamericanos http://www.internet.com.uy/vibri/netart_latino.htm
Digital Performance Archive http://ahds.ac.uk/ahdscollections/docroot/dpa/authorssearch.jsp

4. Electronic Arts Institutions and Festivals
Ars Electronica http://www.aec.at/en/index.asp
Banff Centre for the Arts http://www.banffcentre.ca/bnmi/programs/
Daniel Langlois Foundation http://www.fondation-langlois.org/
ISEA (International Society of Electronic Arts)
http://www.isea-web.org/
DEAF (Dutch Electronic Arts Festival) http://www.deaf04.nl/
Transmediale (Germany) http://www.transmediale.de/page/whatis/home.0.1.html
VIPER Festival (Switzerland) http://www.viper.ch/
5. Some other Recommended Art Sites:
Tiffany Holmes
http://www.tiffanyholmes.com/Projects/index.html
Miguel Chavalier http://www.miguel-chevalier.com
Emergent Systems http://accad.osu.edu/~rinaldo/
HorizonZero http://www.horizonzero.ca/
ZoneZero http://www.zonezero.com/
The Remedi Project http://www.theremediproject.com/
Turbulence (Net Art) http://turbulence.org/
ArtPort (Whitney Museum) http://artport.whitney.org/
6. Online Exhibition Archives
Techno Seduction http://www.cooper.edu/art/techno/
Beyond Interface (net art and hypertext) http://www.archimuse.com/mw98/beyondinterface/
ShockofTheView http://www.walkerart.org/salons/shockoftheview/sv_front.html
Art Entertainment Network (Walker Art Center) http://aen.walkerart.org/
010101 (SFMOMA) http://010101.sfmoma.org/
Digibodies http://www.digibodies.org/